Stop with the boring parfait. Try our chocolate peppermint parfait instead! Recipe below:
Ingredients: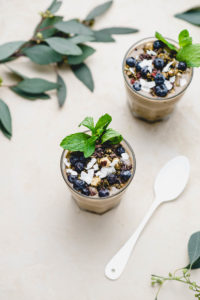 24oz Plain Yogurt (Cashew)
9 Dates
1 scoop Max Vibrance Chocolate
1.5 Tbs. Cacao Powder
1 Tsp Peppermint Extract
Granola, Cacao Nibs (Garnish)
Directions:
In a blender, combine all ingredients until consistent.
Transfer to a parfait cup and top with cacao nibs, granola, coconut shreds and fruit.  Enjoy!