Here at Vibrant Health, we believe health is an inside job, unique to you. After all, you're one-of-a-kind and your needs are complex – that's why your supplements should be too.
To celebrate all of the beautiful complexities of our lives, each month we've been highlighting individuals in our community – taking a peek into the behind-the-scenes of their work life, wellness rituals, and all the wonderful things that make them who they are.
In honor of Men's Health Month, this June on the Vibrant Health blog we got to chat with Dr. Jonathan Brajtbord. As a Urologist, integrative physician, and men's lifestyle expert, Jonathan helps men tackle the inner work in order to live a healthier lifestyle —from relationships to physical health. In fact, that's what inspired his signature program Men's Work — a 6-week "Guys Guide to Growth." 
In this insightful interview, we got to chat with Jonathan about the stigma surrounding men asking for help, his integrative approach to finding the root cause when it comes to health issues, and the valuable lessons he's learned from fatherhood. We hope you enjoy our series…and remember, keep being you!
How would you describe yourself in three words? 
Grounded, Present, Multi-dimensional 
You wear a lot of hats. What does a typical day in the life as a doctor and a dad look like for you — from work to family life? 
I definitely do wear a lot of hats. I enjoy being engaged in a lot of different things and it's also challenging. I try to give myself space to work on myself. I typically get up at 4:30 a.m. and I work out between 4:45/5 a.m. to 5:45 a.m. including breathwork and meditation. I then shower and get ready to go by 6 a.m. when our three kids wake up. I'm responsible for them between 6 to 7 a.m., and then I'm out the door by 7 a.m. to work. I see patients in the office, or I'll do surgeries, or a combo of the two, and during that time I also try to post on social media and do some work in between clients and sessions. 
While I used to get home later, I'm now typically home around 5:00 p.m. so I can be around to help with dinner and sports activities. I'm really present around the evening time. We'll typically do dinner together, then I'll get the kids ready for bed so my wife Sarah can have some downtime, and the kids are asleep by 7:30 or 8:00 p.m. so Sarah and I can have an evening together to sync in. And after that long, exhausting day, I'm in bed by 9:30 p.m. or so. It's a combo of individual parent/kid time and some things we'll do together. We try to be clear and intentional of who is the primary parent.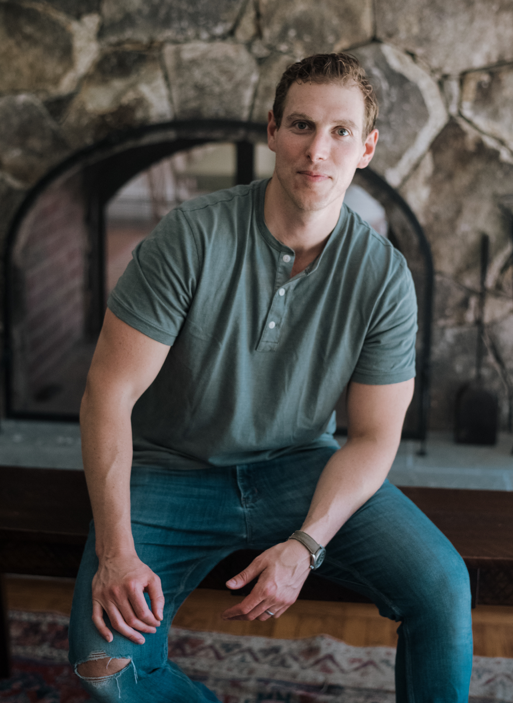 As a Urologist, you see men every week for various health issues. Tell us about your integrative approach and how you get to the root of what's truly going on. 
I see a ton of young men in their 20s, 30s and into their 40s coming in for pelvic pain, testicular pain, or vague urinary symptoms that don't typically fit a Western Medicine box. Many have seen other urologists and they still don't feel well in their body. I first try to make sure from the Western Medicine standpoint nothing else is going on, but I explain to them that their body is sending them signals. I use the analogy that in the pelvis there's all these muscles, and under times of stress you get aches and pains in your body. The pelvis is the same way; men can carry this tension and stress in their pelvis which can lead to physical manifestation of symptoms. Your body is giving you signs that something is off. 
I'll ask how long it's been going on and what else was going on before that time — be it related to family, relationships, or jobs. Some men will be able to identify it and some men won't, but they'll start to find a connection. It's how you deal with the stress, anxiety, and doing activities that bring you joy. For some men, it's the first time someone has talked to them about this. Through this work, a lot of times they'll see improvements in their physical health, helping with the underlying issue! I find oftentimes men just need an invitation — an opportunity or container to open up. I try to do that through the program that I run, Men's Work —offering that container for men to share and express their feelings. 
How does mental health play a part in the work you do when it comes to discussing men's overall health and wellness? 
It's huge! It's often not as well discussed in the men's health aspect of it, and for women it's easier to talk about it. There's still a stigma around men needing help, and men exploring their own feelings and emotions. 
It's super important to talk about mental health when you talk about overall health. We've separated the two, but the mind and body are all connected. It's all one system. So, as I talk to these guys about this, I try to get into asking, How are you feeling about your life? Your relationships or your partners? There's so much stigma around needing help, needing support, admitting something is wrong or that you're feeling overwhelmed. 
With Men's Health Month this June, what are some common misconceptions you see when it comes to men's health? Anything you wish was spoken about more often that you want to shine a light on? 
Lots of times I feel like men don't really appreciate how they live their life in their 20s and 30s sets them up for their 40s, 50s and 60s. It's the whole, "We can do whatever we want and then not have the physical or psychological consequences." I see men in their 30s and 40s overweight and unhappy and their body is starting to show these physical signs. They're shocked it's related. 
The other big misconception is that in order to make changes in your life, you have to have major shifts like changing jobs, and the reality is you can make small changes for a huge effect. 
Part of your mission is helping professional men & fathers do the inner work to live a happier & healthier life. What's something you wish you knew when you first became a father/started this work that you know now? 
It was such a dark time, as I did not enjoy being a dad when I had my son. It was before we were ready, and I just felt so overwhelmed and so guilty about not being there for my wife Sarah and having to do all this work. I'd like to tell new dads it's totally normal to be overwhelmed and there are not a lot of resources out there, but it will get easier…it will get better. 
Having kids is an opportunity for men to rediscover who they are and who they want to be as Dad. I found myself repeating a lot of the same behaviors my dad did with me, and I had to put some intention and thought into asking, "What kind of dad and man do I want to be for my son?" It's a new opportunity to discover yourself and see fatherhood through a new lens. 
What's your go-to nutritious snack or lunch to fuel your workday? 
I'm all about the morning. I take a daily multivitamin/supplement and I love that. And there's a breakfast drink called Ka' Chava that I'll have every morning — it has a ton of superfoods in it and it's a great boost for me during the day!
What does wellness mean to you? 
When people say they're into wellness it's taking care of their mind, body, and soul. It's not just being well for a yoga or workout class; there's a whole lifestyle around it. It involves taking care of your body, paying attention to foods you put in, exercise, and how much sleep you're getting.