Here at Vibrant Health, we believe health is an inside job, unique to you. After all, you're one-of-a-kind and your needs are complex – that's why your supplements should be too.
To celebrate all of the beautiful complexities of our lives, each month we've been highlighting individuals in our community – taking a peek into the behind-the-scenes of their work-life, wellness rituals, and all the wonderful things that make them who they are.
In honor of National Nutrition Month, this March on the Vibrant Health blog we got to chat with Massachusetts-based Concierge Nutritionist and Wellness Strategist Julie Starr. As a Certified Nutrition Specialist with a Masters in Nutrition, it's safe to say she knows her stuff when it comes to all things food and healthy eating!
In this inspiring interview, we got the inside scoop from Julie on common nutrition misconceptions, her go-to uncomplicated healthy meals, and why her salads are never boring. We hope you enjoy our series…and remember, keep being you!
How would you describe yourself in three words?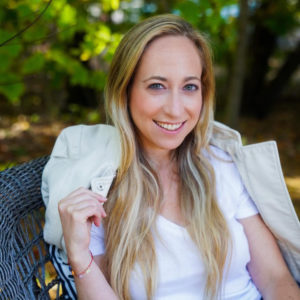 High-achiever, Approachable, Strong
Tell us what sparked your interest in becoming a nutritionist.
I have always LOVED food — everything about it. I used to decide what friend's house I would go over based on what food they had in their house.
Throughout my college education, I was always involved with food, from being the cook of the co-op house to working on farms, to studying it in my pre-med/midwifery courses. I loved observing what people ate, how they ate it and learning about how one's upbringing and culture determined what they ate and their beliefs around food. When my midwifery school was at risk of losing credentialing, it made sense for me to go get my master's in nutrition.
What does a typical day in life as a nutritionist look like for you?
Right now I'm still in "pivot" mode post-pandemic. The decision to close my yoga business was one that I have no regrets about, BUT it opened me up to more time to think about what my chapter is going to look like as a wellness business owner. A few months ago I decided that I want to challenge myself to something new, so I am teaching middle school in addition to running my nutrition practice.
A typical day includes getting my 7th grader off to school, getting in my workout (self-care is essential), and always making time for a good breakfast while sitting down. I never eat in the car or stand up; I like to be mindful about my food and to never rush nourish my body. I check all of my client emails and food records twice a day, morning and evening. If they are going to a restaurant, they send me the menus and I give them suggestions. I see a couple of clients via zoom before noon, then head to school to teach science, nutrition, and yoga.
After school it's "pick up the kid" time, maybe I sneak in another zoom client session, eat dinner, and then I'm an "uber driver" for Izzy the rest of the evening to her basketball practices. I do a lot of my cooking in the evenings and mornings, and I always write a food menu that I put up on the fridge so my daughter can see it and not ask "what is there to eat." I have been trying to read a lot more these days (re-reading "Food Rules" by Michael Pollan at the moment) and try to read before bed instead of scrolling through my phone. Friday afternoons I always write — it could be working on my book or journaling.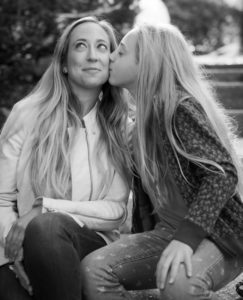 March is National Nutrition Month, encouraging others to make informed choices when it comes to healthy eating habits. What's one simple habit you recommend starting with?
Define what a healthy diet is to YOU and your health goals — WRITE THEM DOWN. A lot of times people just say they want to eat healthier, but they don't know what that means, and then when they define it, it is actually a very restrictive definition, that almost sets one up to fail.
Define, write down, and be realistic with what you have the energy to do at this time. In terms of specific food shifts, aim for half of your food intake to come from plants and try to eat rainbows throughout the day, and drink water.
Any big misconceptions you want to debunk when it comes to healthy eating & nutrition?
Goodness, there are so many! One thing that drives me nuts is those videos from celebrities depicting what they eat in a day. I'm 99% positive that they are lying and what does it even matter what a celebrity eats in a day? We aren't that celebrity!
I have worked with so many fitness professionals, models, etc. and I can tell you that no one really knows what anyone eats except for their nutritionist (and even I need to figure out their real truth sometimes). Focus on what works for you, your needs, and your health.
Another misconception is that eating healthy is boring. I remember years ago I was quoted saying, "If your salad is boring, all it says is that you are."  A little snarky, I know, but it is true. Also, a salad to me is just a mix of food, mostly plants — this can be cooked or raw. A vegetable soup? To me, that's the same as a salad.
What's one of your favorite healthy meals or snacks you can't get enough of lately?
I am not a snacker so I'll tell you my favorite meals. My current fave breakfast that I have post-workout four days a week: Overnight oats with oat milk, chia seeds, vanilla almond butter, cinnamon, and nutmeg. Simple.
Dinner: Potato and egg bake served with chopped salad (that is a mix of raw and roasted veg for texture) and a tahini dressing. We really do keep it simple in our house.
What are some go-to wellness tools you lean on when it comes to staying healthy – mind, body, and soul?
Listen to my body. If I'm overtired, I do not work out. Go to bed early; sleep is essential.
Plan my meals so I don't stress out about them; the less stress the better!
Keep my kitchen stocked with items that I know make me feel good. (I encourage all of my clients to figure out their 3-4 food items that make them feel good and keep those in house.)
Make my bed. I know, it may seem silly, but it helps me feel put together, which helps my mindset.
Drink water. It's so crazy how easily we forget to drink water, then when we do we are like, "Wow, water is amazing and I feel so much better!"
Write to-do lists. It helps clear space in my head and I don't worry about forgetting things. (I have post-its everywhere!)
Say "no" to things that I don't need to do. As I have gotten older, this has become much easier. Plus I have suffered from burnout and I don't want to repeat that.
What does "wellness" look like for you?
Wellness to me is contentment, self-acceptance. It is subtle, like a sparkle in your eyes, a spontaneous bike ride that ends up being 20 miles instead of 10 but you can do it because you are well a dinner party with family where you eat food that makes you feel good, and smiles. Wellness to me is the ability to live a full life of your design.