Here at Vibrant Health, we believe health is an inside job, unique to you. After all, you're one-of-a-kind and your needs are complex – that's why your supplements should be too.
To celebrate all of the beautiful complexities of our lives, each month we've been highlighting individuals in our community – taking a peek into the behind-the-scenes of their work life, wellness rituals and all the wonderful things that make them who they are.
WIth Valentine's Day this month, we wanted to spotlight someone who is an expert on love so we reached out to Relationship Coach and former therapist Susan Trotter, Ph.D. Working with both singles and couples alike, she's passionate about helping people to feel confident and empowered in their lives.
In this inspiring interview, we got to chat with Susan about the importance of mindset, why self-care matters when it comes to healthy relationships, and some fun love facts (like why hugging is good for your health thanks to the "love hormone")! We hope you enjoy our series…and remember, keep being you!

How would you describe yourself in three words?
Positive, empathic and authentic.
What does a typical day in the life as a Relationship Coach look like?
Scheduled sessions with clients (individuals and couples), reviewing dating profiles/messages, teaching webinars, facilitating groups and webinars, and participating in networking events.
In addition to my coaching practice, I am also on the Advisory Board of Vesta which provides education and support to people in all phases of divorce, and I am a Community Leader with Pepperlane which supports women – and especially moms – in starting and growing their own businesses.
We love your tagline, "Be the best version of you." What does that personally mean to you?
My mission is to help people to feel confident and empowered in their lives. To "be the best version of you" means to be living in your power: happy, full of joy, balanced, at peace, successful, authentic.
More specifically, I specialize in helping people who are in relationships to strengthen the connection and improve communication, people who are thinking about or going through divorce to navigate that process with confidence and peace of mind, and people who are single to date successfully and develop healthy and happy relationships.
Tell us more about your mission in helping people to feel confident and empowered in their lives through the work you do as a Relationship Coach. 
Much of my focus is on mindset, confidence and empowerment. Whether the specific focus is on relationships, divorce, dating or anything else, it is essential that people feel confident within themselves and empowered in all areas of their lives. Doing so will ultimately lead to better outcomes in their relationships and other parts of their lives.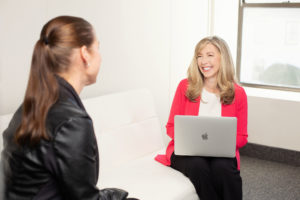 Mindset and self-confidence are also a big part of the work you do. As a former therapist, how do you integrate that into your client sessions? Is focusing on mental health also a part of relationship coaching?
Mindset is such an important part of my work. I believe that how we think affects how we feel, what we do, and the results that we get. So how we think about things really matters, and the amazing thing is that we actually have the power to change how we think and to rewire our brains in the process. It is incredible what we have the power to do!
I started my career in clinical psychology and practiced as a therapist for over 20 years before shifting to coaching. Having a clinical background is part of what makes me unique as a coach. It also means that I am tuned into mental health issues, and intentional about referring people to therapists when issues arise that would be better served in therapy versus coaching.
With Valentine's Day coming up and lots of talk about love this month, what message do you want to share with both couples and those who are single looking to start dating again?
For couples, it is so important to dedicate time to nurturing and continuing to grow your relationship, no matter how long you have been together. Find time to talk, take walks, go on dates. Relationships ebb and flow, and there is always opportunity to deepen the relationship and find greater joy and love together.
For single people, this is a great time to begin your search for love, especially online since we are still in a pandemic. Doing the work to understand and learn from your past relationships, learning how to present yourself to attract the people you want to attract, being confident and creating a life that others may want to be a part of are all great ways to set yourself up for success in dating and relationships. Love is out there for everyone!
What's one simple step someone can take this month to have a healthier relationship?
Practice good self-care. Improve your confidence and self-esteem and know your worth. What we put out into the world is what we get back. When we feel good about ourselves, we are much more likely to attract people who also feel good and will make us feel good, too. And we'll be better at setting boundaries when necessary. Also, don't compromise on quality when looking for someone. And finally, communication is key!
Do you have any go-to wellness rituals?
Deep breathing exercises, meditation, walking/hiking, gratitude exercises, paying attention to my own mindset and more.
What does wellness look like for you?
Wellness is about feeling joy, balance and peace in my life!
Any fun facts about relationships & wellness you want to share with our readers?
Fun Facts:
Smiling can give us a mood boost that helps our bodies to release cortisol and endorphins, which can then also lead to numerous health benefits.
Expressing gratitude can also improve your mood, and lead to greater happiness, lower stress and increased optimism.
Movement, even just a 15-minute walk, can improve your mood, clear your mind and increase your energy level.
Hugs can lower heart rates and blood pressure. It can also boost self-esteem. And hugs make us release oxytocin which is often called the "love hormone" which is why hugging tends to make us feel good.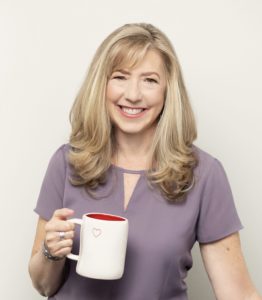 Thank you for being a part of our community! Want to be featured on our Vibrant Health blog? Send an email to Ashley at aaudet@vibranthealth.com