This simple but nutrient-packed green juice packs all of the immune-boosting, nutrient-dense, and digestion supporting ingredients found in Green Vibrance plus fresh green vegetables and fruit to make the ultimate green juice.  Try the recipe below: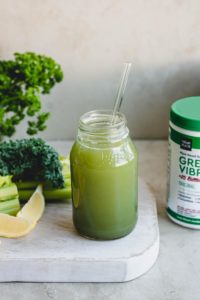 Ingredients 
1 scoop Green Vibrance

 

4 stalks celery, trimmed

 

2 green apples, roughly chopped

 

1 English cucumber, roughly chopped

 
1 cup frozen kale

 

1/4 cup mint leaves

 

1 lemon, juiced

 

2 cups water

 

2 dates, pitted (optional)

 
Directions
Use a high-speed blender to process all ingredients together until consistent then strain through a cheesecloth.

 

Transfer to glasses then enjoy!