You might think it's odd that we decided to mix Green Vibrance with peanut butter. Green Vibrance contains some spicier flavors, like cayenne pepper, which blend exquisitely with any nut butter. You could take our word for it, but you just have to try it for yourself.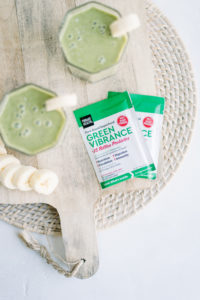 Ingredients
1 banana
1 cup almond milk
1 scoop Green Vibrance
2 Tbsp peanut butter
2 dates, pitted
¼ tsp ground cinnamon
Directions
Add all ingredients to a high-speed blender and blend until smooth.