Cold weather bringing your mood/ energy levels down? Increase your energy with our latest recipe! These easy to make no-bake energy bites will give you the zing you need to get through the day thanks to Maximized Turmeric 46x!
Recipe below.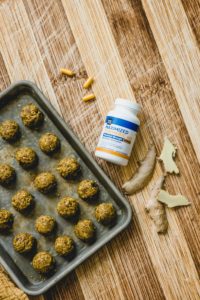 Ingredients:
3 capsules Maximized Turmeric 46x

 

12 pitted dates

 

2 tsp dried ginger

 

2 Tbs maple syrup

 

1/4 cup tahini

 

1/4 cup shredded coconut

 

1 tsp vanilla extract

 

1/4 cup rolled oats

 

1 tsp sea salt

 

1 cup walnuts

 

1/4 cup flax meal

 

2 Tbs coconut butter

 
Directions:
Process in a food processor until dough-like consistency / can hold itself together.

 

Roll in 1" balls then store in an airtight container or enjoy immediately!