Here at Vibrant Health, we believe health is an inside job, unique to you. After all, you're one-of-a-kind and your needs are complex – that's why your supplements should be too.
To celebrate all of the beautiful complexities of our lives, each month we've been highlighting individuals in our community – taking a peek into the behind-the-scenes of their work life, wellness rituals and all the wonderful things that make them who they are.
WIth National Green Juice Day coming up January 26th, we wanted to chat with someone in the health food space who truly lives and breathes green juice, fruits and veggies. This month on the Vibrant Health blog we got to chat with Rosy Kapur, the woman behind CT-based Juice & Smoothie bar Liquid Nirvana. With locations in both Avon and Glastonbury, CT, her shop specializes in serving up fresh, vibrant juices, smoothies, sandwiches and salads to fuel your wellness. Their tagline? "Eating healthy is good karma." (We couldn't agree more.)
In this inspiring interview, we got to hear from Rosy about her inspiration to open her juice bar,  why celery is a must on her grocery list, and the power of having a positive body image. We hope you enjoy our series…and remember, keep being you!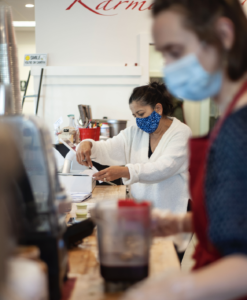 How would you describe yourself in three words?
Caring, tenacious and result-oriented!
What was your inspiration to start your business and open Liquid Nirvana?
My inspiration was my husband and his profession [in the medical field]. There were and aren't many places where you can get a clean, healthy product. We started making smoothies at home around 2012 and saw a huge impact on the family's health, especially Dinesh.
His patients and staff noticed a difference in his energy levels and in his general physical outlook. Liquid Nirvana has made a pledge of quality and consistency and that has helped us. We try to stick with the motto of keeping things as homemade-like as possible.
National Green Juice Day is January 26th. What's your personal favorite green juice combination?
My personal favorite green juice is our "Green Nirvana." The juice is an incredible combination of all the greens we have: celery, cucumber, parsley, mint, kale, and wheatgrass with a choice of lime or lemon.
I enjoy mine with lemon and a little turmeric. It has zero fruit and zero sugar yet it is still very satisfying. The wheatgrass in it restores your energy and provides chlorophyll for your blood, while the greens hydrate you while providing multiple vitamins. It is an awesome juice after a nice run, yoga class, or any workout for that matter!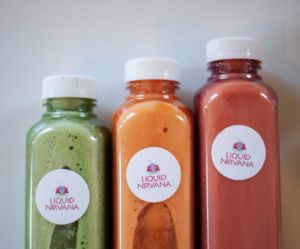 What's your proudest business moment or something you want to celebrate?
When a friend or customer stops you and tells you that they have stage 4 cancer and that the Healer Juice has helped them get through chemo, it gives you that reminder that you are doing the right thing. Immunotherapy via the right food is critical for people going through a tough health situation!
If you had to live off one fruit or veggie for the rest of your life, what would it be and why?
Probably celery with its healing powers as we age. It helps with digestion and, mixed with a little turmeric, helps inflammation and is great for Gout or arthritis type issues.
When you're not running your business, what do you do in your spare time?
I don't have a lot of spare time since I manage both locations myself. I work seven days but the evenings are sacred for the family.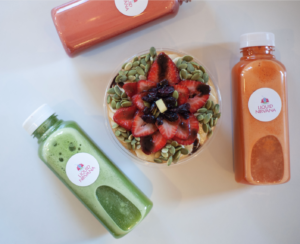 What are your personal and business goals for the year ahead? 
My personal goal is to avoid burnout. To do that I need to teach myself to be more hands off with my business and help it grow. This (I hope) will also give me more time to take care of myself physically and mentally, especially since we will be welcoming our first grandbaby in 2022.
As we approach our solid eight years in business, our goal is to grow our incredibly strong product offering and our loyal customer base. And we'll possibly be adding a new location and maybe a new updated look of our current locations.
We also need to look into building more creative marketing strategies and programs (such as happy hour) to grow strategically. We will need to introduce more new products and services such as catering. And lastly our forever goal is to make sure that we stay integrated in supporting the communities that we are part of, by helping wherever we see a need. Our community defines us!
What are your go-to self-care or wellness rituals?
I don't have many but it is something that I plan on adding into my life — probably a massage or a facial a month.
I also enjoy my exercise time which is around 9:00pm each night, and I do drink a juice every day which I feel definitely helps me with my energy levels and physical health.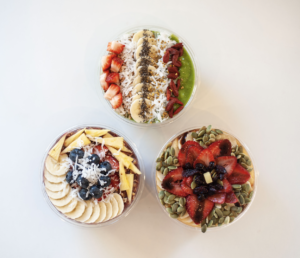 What does health look like for you?
Health does not mean that you have to be a certain weight; it means that you look healthy, you feel healthy and you are able to manage your body in a positive way.
A body positive image is critical and is something that is an issue in our culture. I always tell people that if you eat and drink healthy, exercise at least a half hour each day, your body will take care of the rest.
Do you have a New Year resolution or intention you're focusing on for 2022?
My New Year resolution is to grow our business and provide our clean, organic, made-from-scratch, individualized products to other communities.
Thank you for being a part of our community! Want to be featured on our Vibrant Health blog? Send an email to Ashley at aaudet@vibranthealth.com