Energize with our latest recipe using almonds, coconut, chocolate, and Green Vibrance- Chocolate Coconut! Try our Joyful Almond Energy Bites!
Recipe below.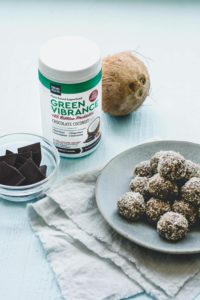 Ingredients:
1 cup shredded coconut

 

2-3 Medjool dates, pitted (or coconut sugar to sweeten)

 

1/2 cup almond butter

 

1 cup sliced almonds

 

1 Tbs chia seeds

 

2 Tbs cacao powder

 

2 Tbs cacao nibs
Directions:
Place Green Vibrance – Chocolate Coconut and all other ingredients into a food processor.

Process until dough-like consistency/can hold itself together.

Roll in 1" balls. (Optional: roll in shredded coconut) then store in an airtight

container, or

enjoy immediately!