A balanced diet is what fuels the body to move and run effectively. However, food is also meant to be enjoyed. All or nothing, mindsets around food can create unhealthy yo-yo diets and more discouragement. Finding fun ways to incorporate healthier ingredients and products is a key step towards balanced nutrition. 
For boosted energy, improved circulation, and better digestion, Green Vibrance is a must-have product. A plant-based green superfood formula, Green Vibrance is packed with over 25 billion probiotics and micronutrients for those looking to achieve optimal nutrition and balance. Available in Chocolate Coconut and original flavoring, this multi-tasking product is perfect for mixing into grab-and-go smoothies and other snack recipes! 
Below are two delicious and decadent Vibrant Health recipes that will help satisfy those sugar cravings while packing a nutritious punch. Who doesn't love cookies and ice cream?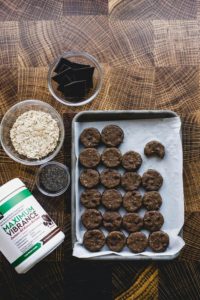 Chocolate Coconut No-Bake Cookies
Ingredients:
6 Medjool dates, pitted 

2 Tbs cocoa powder 

1 cup cashews 

1 cup coconut flakes 

3 tablespoons maple syrup 

2 Tbs coconut butter 

1 teaspoon vanilla extract 

1/2 tsp sea salt 
Directions:
Place the pitted dates and cashews into a food processor and pulse until finely chopped.

Add in the rest of the ingredients and continue pulsing until just combined. The texture should easily stick together when pinched. If it is too wet, add more pecans or coconut flakes.

Next, roll the mixture into 2" balls and flatten gently to form a cookie. Place onto a tray or plate.

Finally, remove from fridge and enjoy!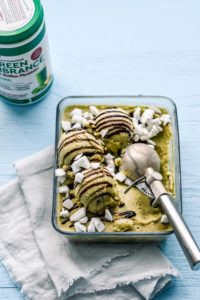 Vanilla Nice Cream Sundae
Ingredients:
1 scoop Green Vibrance

4 cups frozen banana chunks 

1 cup almond milk

1 Tbs vanilla extract 

1 fresh banana, peeled and sliced in half 
Vegan Fudge Sauce:
½ cup Vegan Chocolate

¼ cup Coconut Milk
Directions:
In a high-speed blender, add all ingredients except for the coconut shreds. Blend until consistent, then transfer to a small container. 

Freeze for at least 3-4 hours or until solidified. Garnish with coconut shreds.

Melt the vegan chocolate and coconut milk together and whisk until smooth and consistent. 

When ice cream is ready, scoop from the container, top with vegan fudge sauce, and enjoy! 
Eating healthy does not have to be boring. So give these easy, healthy recipes a try on a weeknight to spice up the week. Dessert anybody?