This flavor-packed green salad dressing uses Green Vibrance plus a host of other nutrient-dense ingredients to help dress up any salad. With warm weather approaching, salads are a staple for us and this new dressing will be on all of them. Try the recipe below: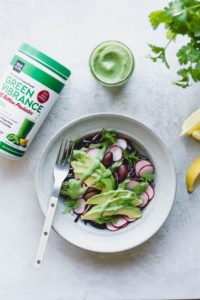 Ingredients
1 scoop Green Vibrance

 

16 oz. silken tofu

 

1 medium hass avocado

 

1/4 cup lemon juice (more or less depending on preference)

 
1 garlic clove

 

1/2 cup loosely packed cilantro leaves

 

1/2 cup loosely packed basil leaves

 

1/2 cup loosely packed parsley leaves

 

1/2 cup chives

 
1 Tbs brown mustard

 

1 teaspoon sea salt

 

1/2 tsp cracked black pepper

 
Directions
Blend all ingredients together until combined and smooth. Season to preference, then store in an air-tight container.

 

Chill for at least one hour, then when ready to use, stir again before serving. (It will thicken in the fridge. Loosen with filtered water or plant milk as needed.) Enjoy!