These power-packed brownie bites provide all of the nutritional support and protein to help keep you focused and ready to tackle your day! Try the recipe below: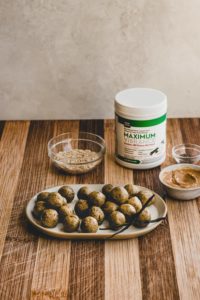 Ingredients
(Makes roughly 30 bites) 
1 scoop Maximum Vibrance Vanilla

 

1 cup rolled oats

 

2-3 Medjool dates, pitted (or coconut sugar to sweeten)

 

1/2 cup almond butter

 
1 cup raw walnuts

 

2 Tbs coconut oil

 

2 Tbs chia seeds

 

1 cup sugar-free chocolate chunks

 
Directions
Using a food processor, pulse all ingredients except mini chocolate chips until dough-like consistency/can hold itself together.

 
Afterward, transfer the mixture to a large mixing bowl and fold in the chocolate chips.

 
Roll in 1" balls then store in an airtight container, or enjoy immediately!