While love is in the air this month, don't forget to give some extra love to your heart too. After all, February is American Heart Month — encouraging folks to take care of their cardiovascular health. While there are a variety of ways to work toward a heart-healthy lifestyle, one big factor is how you fuel your body.
This month on the Vibrant Health blog, we're arming you with six heart-healthy and delicious snack ideas to add to your diet now!
6 Heart-Healthy Snacks to Add to Your Diet
Homemade Trail Mix
Raw Veggies with Hummus
Green Smoothie
Salmon Salad with Whole Grain Crackers
Avocado Dip with Veggie Chips
Dark Chocolate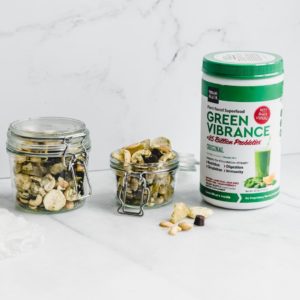 Heart-Healthy Snack #1: Homemade Trail Mix
Trail mix is our favorite sweet and salty snack — and for good reason. Not only does it satisfy your cravings, but it's chock-full of heart-healthy nuts, seeds, and dried fruits.
And when it comes to nuts, we say go nuts. According to this study, people who regularly consume nuts have a lower risk of developing cardiovascular and coronary heart disease. Add raw nuts to your homemade trail mix, spread nut butter on crackers or toast, and enjoy in your breakfast bowls.
Try this Recipe: Sweet & Salty Trail Mix
Heart-Healthy Snack #2: Raw Veggies with Hummus
You know by now you should probably start eating more vegetables as part of a healthy lifestyle and there's no better time than the present. Want to double down on your heart health? Try pairing your raw veggies — like celery, carrots, and broccoli — with protein-rich hummus, like the one below made with both chickpeas and lentils.
Dietary pulses — such as chickpeas, lentils, and peas —can significantly lower LDL (low-density lipoproteinsi.e. "bad cholesterol") and reduce cardiovascular risk. Time to break out those crudite party platters!
Try this recipe: Roasted Garlic Red Lentil Hummus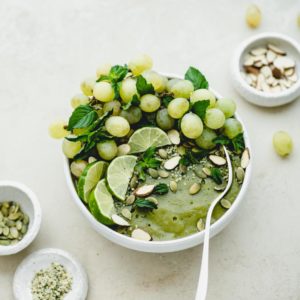 Heart Healthy Snacks #3: Green Smoothie
The American Heart Association recommends a wide variety of fruits and vegetables as part of a heart-healthy diet. After all, eating fruits and vegetables — particularly leafy greens and vitamin c-rich fruits — may lower your risk for coronary heart disease.
Our favorite way to squeeze them into your diet is by making a smoothie to start your day, and our Green Vibrance superfood powder makes it easier than ever to get your greens!
Try this Recipe: Green with Envy Smoothie
Heart-Healthy Snack #4: Salmon Salad with Whole Grain Crackers
Omega-3 fatty acids have long been touted for their heart-healthy benefits. A great way to incorporate them into your diet is through fatty fish such as salmon, sardines or tuna. Whip up a simple salmon salad to dip with whole-grain crackers, cucumber slices, or mini bibb lettuce cups.
Try this recipe: 5-Minute Salmon Salad
Heart-Healthy Snack #5: Avocado Dip with Veggie Chips  
We're a big fan of avocados over here at Vibrant Health — using them for everything from DIY facials to smoothie bowls. As if we needed yet another reason to love avocados, a recent study found that consuming one avocado a day as part of a heart-healthy diet can decrease LDL in overweight and obese adults. Win, win!
Whip up this quick 2-minute avocado dip to pair with raw veggies, whole-grain crackers, or even homemade sweet potato or zucchini "chips."
Try this recipe: 2-Minute Creamy Avocado Dip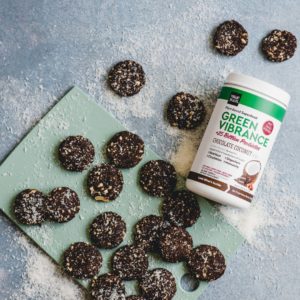 Heart-Healthy Snack #6: Dark Chocolate
Chocolate as a heart-healthy snack? Yes, you heard that right! As it turns out, the flavanols in cocoa can protect against cardiovascular disease.
Be sure to choose natural dark chocolate derived from pure cocoa, and enjoy it in your trail mix, as an after-dinner sweet treat paired with fruit (such as chocolate-covered strawberries), or these No-Bake Cookies below, made with cocoa powder.
Try this recipe: Chocolate Coconut No-Bake Cookies
DISCLAIMER: This information is not intended as a substitute for advice provided by a competent health care professional. You should not use this information in diagnosing or treating a health problem. No claim or opinion in this blog is intended to be, nor should be construed to be, medical advice. If you are now taking any drugs, prescribed or not, or have a medical condition, please consult a competent physician who is aware of herb/drug interactions before taking any herbal supplements. The information presented herein has not been evaluated by the FDA or the Department of Health and is not intended to diagnose, prevent, cure, mitigate or treat any disease or illness.